Description
Usually, mom's already carrying all sorts of vital necessities with her,wouldn't it be wonderful if at a minimum the jacket could save space and weight? Nevertheless this super space saver must be warm! Allow us to introduce the mamalila quilted jacket for two, the featherweight of the babywearing jackets. Thanks to its innovative high-tech filling, it is ultra-light and yet ultra-warm, a downlike feeling without the down. The babywearing jacket is therefore ideally suited as a midlayer for colder temperatures and is the ideal companion for outdoor sports of all kinds, from Nordic walking to cross-country skiing! Furthermore, it can be compactly and quickly stowed away in its accompanying pouch so that it fits easily into any hand/changing bag.
Suitable for
h3>Highlights
superlight, windproof with efficient insulation
water repellent impregnated
Thermore® Aria: ntiallergen High-tech polyester filling with 50% recycled material
Functions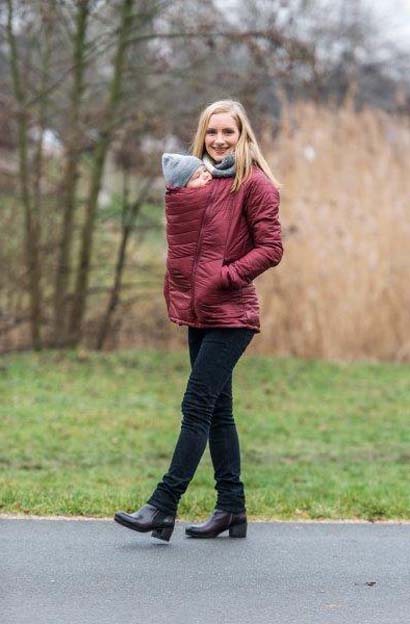 ---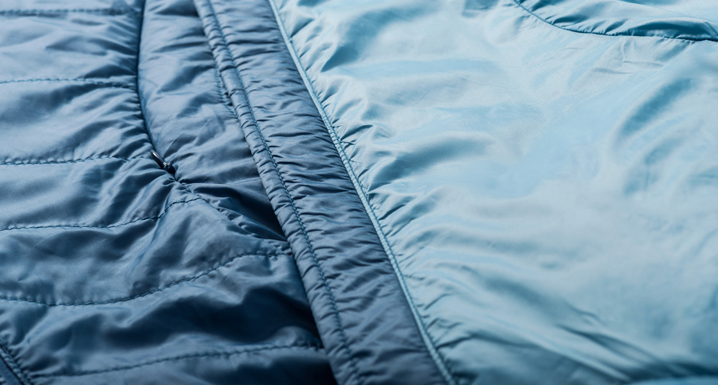 Material
The new Quilted Jacket from mamalila has environmentally friendly Thermore® padding and is super light and very soft.  The material allows the jacket to be rolled up into a tiny package and is delivered with its own tiny pack sack.  For perfect protection from the elements combine the Quilted Jacket with the Rainjacket ? Hardshell , an ideal combination for all year round protection.
Material:
Outer material: 100% Nylon
Filling: 100% Polyester ? Thermore®aria
Inner material: 100% Nylon
Weight incl. Baby and maternity insert: 380 g
Folded measurements: approx. 24 x 14cm
Eco-Information
Care Instructions
The Jacket should be hand-washed at up to 30°. Lay flat or hang to dry. Do not tumble dry. Iron at a max. temperature of 110°
Keep the jacket packed in its carrying sack for travelling around.  For longer storage we would recommend the jacket is unpacked and hung.
Here you will find care products recommended by mamalila
---
---
Size Information
mamalila's Tipp: Jacket is form fitted (smaller as our other jackets), requires space to function (warming)
Choose mama-size only, children (up to 1,5-2 years) and pregnant bellies will fit in our babywearing and maternity inserts! Happy to advise when unsure by size selection!
XS
S
M
L
XL
Deutschland
Österreich
Nederlands
36
38
40
42
44
US
6
8
10
12
14
UK
10
12
14
16
18
France
Belgique
36
38
40
42
44
Italia
40
42
44
46
48
Körpermaße:
Body measurements:
Brust / Chest 
79-85cm
86-93cm 
94-101cm 
102-109cm 
110-115cm
Taille/Waist 
78-83cm 
84-89cm 
90-95cm 
96-103cm 
104-109cm
Hüfte / Hips 
88-93cm 
94-99cm
100-107cm 
108-115cm 
116-123cm
Ärmellänge der Jacke
sleeve measurement of jacket 
62 cm 
63 cm 
64 cm 
65 cm 
66 cm
---