Description
The wonderfully soft organic boiled wool  combined with a windproof organic cotton lining makes this maternity and babywearing coat a real feel-good piece and sustainable highlight in your wardrobe. It scores with an urban look and can be extended for pregnancy and after birth for babywearing - in front or on the back. And after the babywearing time, it becomes a completely normal coat that doesn't reveal its additional uses.
 
Suitable for
Highlights
Finest organic boiled wool from controlled organic animal husbandry (kbT)
Windproof and temperature regulating
High wearing comfort
Elegant look while pregnant, babywearing or afterwards
Baby insert with multiple width adjusters
Functions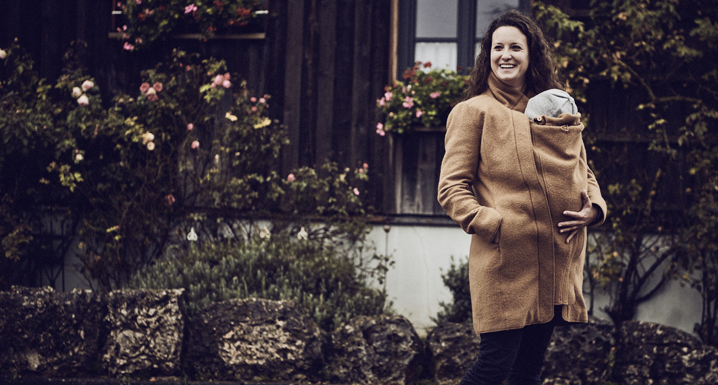 ---
Material
100% boiled wool from organic animal farming, lined with 100% organic cotton in combination with a wind and waterproof Membrane
 
eco-information
Pure new wool from kbT
 Organic cotton (OCS100)
PFOS/PFOA free membrane
Further information on sustainability
Care instructions
Please hand wash only! Wool does not need to be washed often, best case just hang it out to air.
 
---
---
Sizes
Choose mama-size only, children (up to 1,5-2 years) and pregnant bellies will fit in our babywearing and maternity inserts! Happy to advise when unsure by size selection!
XS
S
M
L
XL
XXL
Deutschland
Österreich
Nederlands
36
38
40
42
44
46
US
6
8
10
12
14
16
UK
10
12
14
16
18
20
France
Belgique
36
38
40
42
44
46
Italia
40
42
44
46
48
50
Körpermaße:
Body measurements:
 
 
 
 
 
 
Brust / Chest
75-85cm
83-93cm
92-102cm
99-109cm
107-117cm
115-125cm
Taille/Waist
67-77cm
75-85cm
83-93cm
91-101mc
99-109cm
99-109cm
Hüfte / Hips
83-93cm
91-101cm
99-109cm
107-117cm
115-125cm
123-133cm
Ärmellänge der Jacke
sleeve measurement of jacket
64,5cm
65,0cm
65,5cm
66,0cm
66,5cm
67,0cm
---
---
What others say about this product