Description
with pregnancy insert for the growing baby bump
breathable, wind and waterproof material
taped seams
drawcord to prevent draughts
snug, soft cuffs
two zipped pockets
plus zipped inner pocket for ski pass or valuables
mamalila concept: maternity jacket, baby carrier jacket and high-quality functional jacket in one
Suitable for
Highlights
breathable, wind- and waterproof material
taped seams
vegan, hypoallergenic padding
foldable baby hood with integrated head support for sleeping babies
different warmth levels: high protection against the cold when baby is carried and in motion; otherwise also suitable for the transitional Season
sporty cut and well thought-out details: can also be used as a ski jacket
Functions
waterproof

level 5
windproof

level 6
breathability

level 6
cold protection
level 5
wind and waterproof membrane
Water column: 10,000mm
High breathability (Ret 10)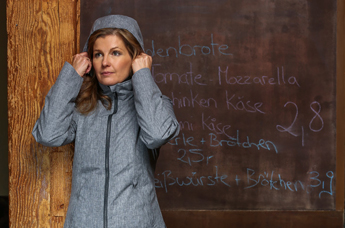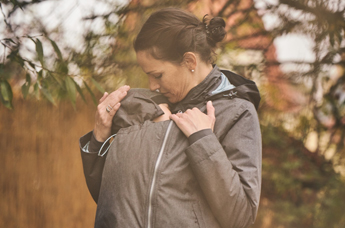 ---
Material
Two laminated layers:
1. layer 100% polyester
2. Membrane 100%, polyurethane
Padding: 100% polyester
Lining: 100% polyester
Eco-Information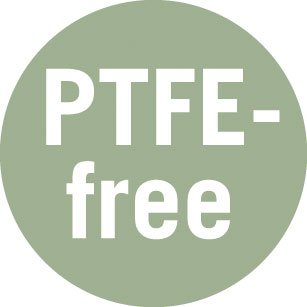 PFOS/PFOA-free membrane
FC-free impregnation
Vegan, anti-allergic padding
further information on sustainability
Care Instructions
Machine washable at 30°
Please do not use fabric softener!
In order to maintain the water repellency of the jacket, the jacket should be subjected to a brief heat treatment after washing: iron briefly at level 1 or place in the tumble dyer at medium heat!
We recommend re-impregnating the jacket after four to five washes with an FC-free product, e.g. with TX.Direct® Wash-In or Spray-On from Nikwax.
These and other care products can be found in our Webshop at https://www.mamalila.de/Care-products
---
---
Size Information
mamalila's Tipp: Jacket is tailored, but generously cut (may you will use quilted jacket underneath)
Choose mama-size only, children (up to 1,5-2 years) and pregnant bellies will fit in our babywearing and maternity inserts! Happy to advise when unsure by size selection!
XS
S
M
L
XL
Deutschland
Österreich
Nederlands
36
38
40
42
44
US
6
8
10
12
14
UK
10
12
14
16
18
France
Belgique
36
38
40
42
44
Italia
40
42
44
46
48
Körpermaße:
Body measurements:
Brust / Chest 
82-89cm
90-97cm 
98-105cm 
106-111cm 
112-119cm
Taille/Waist 
80-85cm 
86-91cm 
92-97cm 
98-105cm 
106-113cm
Hüfte / Hips 
90-97cm 
98-105cm
106-113cm 
114-121cm 
122-129cm
Ärmellänge der Jacke
sleeve measurement of jacket 
63 cm 
64 cm 
65 cm 
66 cm 
67 cm
---
---
What others say about this product