Description
Stylish and functional
The casual style and the many little Details of this coat leave nothing to be desired when you, as a mom, are out and about while babywearing. The silky sheen and the light feel give this babywearing coat a very special touch – thanks to the great combination of organic cotton and high-quality recycled polyester. What's more, you can combine the coat perfectly with a skirt or pants, casual or trendy. |
Made for you as a mother in spring, summer and autumn
This babywearing coat will accompany you on day trips, on holiday and in everyday life and will protect you and your baby against wind and small showers. Thanks to its high breathability, Dublin is ideal when the weather is changeable. The combination of membrane and inner lining made of organic cotton ensure optimal comfort for mom and baby.
You can use it not only for babywearing, but also as a mackintosh during pregnancy: at the beginning, you can simply adjust the waist size so that the coat adapts to your silhouette. Later, you can zip in the enclosed pregnancy insert and expand the coat for your growing baby bump.
Sustainable? For sure
It is important to us that the coat accompanies you through motherhood, but also becomes a much loved and worn piece of clothing for you alone. Because longevity is the best form of sustainability. What's more, Dublin is made completely sustainably: We combine recycled polyester with skin and environmentally-friendly materials, so that fewer pesticides are used and the consumption of water and resources is reduced. In addition, the coat is packaged plastic-free – ex works!
Suitable for
What you can expect
Urban transitional coat
casual style
easy to combine
beautiful silhouette: adjustable waist
two outer pockets with flap
Weather protection
windproof and water resistant, suitable for short showers with taped seams in the shoulder area
breathable
well-fitting hood, adjustable in two positions
gradually folding baby hood with integrated head support for sleeping babies
high, adjustable baby neck protection against draughts and rain
Flexible and mobile
pleasantly light to carry
convenient to stow
2-way zipper for more freedom of movement
adjustable cuffs
 
Weather protection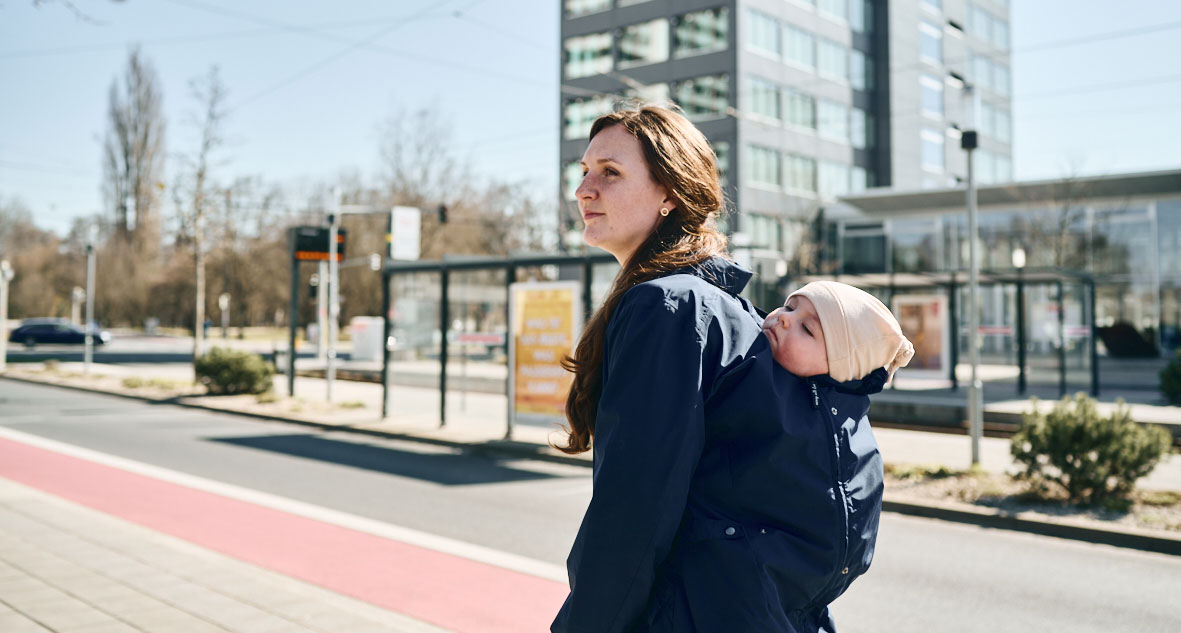 ---
Material
Outer fabric: 100% polyester made from recycled PET bottles + PU membrane (PTFE-free), 10,000 mm water column
Lining body: 100% organic cotton (OCS100)
Lining sleeves: 100% recycled polyester
Waterproofing FC free (Bionic Finish Eco)
Sustainability
This is how sustainable Dublin is:
minimal resource consumption due to recycled material
no pesticides
reduced water consumption in production
plastic-free packaging ex work
no chemicals that are difficult to degrade / harmful to health (FC, PTFE)
long-lasting due to multi-use
high resale value thanks to excellent quality
fairly produced (BSCI and GOTS certified Factory)
 
Further information on sustainability
Care Instructions
Dublin is easy to wash and care for if you follow these instructions:
30 degrees in the washing machine / delicate wash cycle
no fabric softener (damages the membrane)
iron carefully after washing, avoiding seams and zippers (maintains the water-repellent property)
After about four to five washes it may be advisable to re-impregnate, please use FC-free agents such as Nikwax .
---
---
Size Inforamtion
Orientate yourself to your normal clothing size. It is important that the jacket fits you later on even without a baby.
There is room for your baby up to 1.5-2 years thanks to the insert.
You will need the pregnancy insert from about 7 months.
If you are unsure about the sizes, we will be happy to advise you!
 
XS
S
M
L
XL
Deutschland
Österreich
Nederlands
36
38
40
42
44
US
6
8
10
12
14
UK
10
12
14
16
18
France
Belgique
36
38
40
42
44
Italia
40
42
44
46
48
Körpermaße:
Body measurements:
 
 
 
 
 
Brust / Chest
79-89cm
87-97cm
95-105cm
103-113cm
115-125cm
Taille/Waist
74-84cm
82-92cm
90-100cm
98-108mc
110-120cm
Hüfte / Hips
87-97cm
95-105cm
103-113cm
111-121cm
123-133cm
Ärmellänge der Jacke
sleeve measurement of jacket
64,5cm
65,0cm
65,5cm
66,0cm
66,5cm
---
---
What others say about this product