Description
Best possible wearing comfort even with growing baby bump
Many pregnant women know the problem: when the baby bump gets bigger and bigger, the normal jacket tightens at some point. At the latest, when the zipper no longer closes, it's time for a proper maternity jacket. It should provide enough space for your bump and improve your freedom of movement. All this is guaranteed with the mamalila maternity jacket: The maternity insert gives your bump the space it needs. The jacket is made of stretchy softshell and adapts to your body accordingly. You can find the mamalila bestseller in our assortment in many different trendy colours. The jacket is made of recycled polyester, which is produced from PET bottles. Environmentally conscious moms therefore also make the right decision with the softshell jacket. The closable pockets offer you a safe place for everything you always want to have with you on the go - such as wallet, smartphone and keys.|
Optimally equipped for wind and rain
Exercise in the fresh air is especially important during pregnancy. It keeps you fit and healthy. Once a day you should go outside - no matter what the weather is like. The mamalila softshell jacket ensures that you are well protected from the weather during all your walks with your baby bump. Whether it's raining or storming: the functional membrane protects you and your bump from the cold and wet. Thanks to the light lining, the softshell maternity jacket is an ideal companion in spring and autumn. On windy days or in sudden downpours your head is well protected by the hood. Even on cool summer days, many expectant moms like to reach for the mamalila softshell jacket. And in winter you don't necessarily need an additional maternity jacket: in most temperatures it is enough to put a thick sweater under the jacket so that you don't freeze.
mamalila softshell jacket: your reliable companion during and after pregnancy
Our softshell maternity jacket is not without reason one of the bestsellers from the mamalila range. It accompanies you from pregnancy through childhood and beyond. If you want, you can use it as a babywearing jacket after the birth. The additional inserts allow you to carry your baby either in front of your body or on your back. Of course, the softshell jacket can be used as a high-quality functional jacket without the inserts. Thus, the softshell jacket offers you an optimal price-performance ratio, because a long service life is guaranteed thanks to the high quality.
Suitable for
What can you expect
maternity jacket with additional functions: can also be worn as a carrying jacket and high quality functional jacket
detachable hood: for warm ears in case of strong wind
light inner lining: provides warmth for you and your baby bump on cool days
stretchable softshell: guarantees high wearing comfort even with a growing bump
high breathability for feel-good factor
feminine fit and sporty look: trendy companion for moms-to-be
high-quality functional membrane: very good weather protection against rain and wind
for a wide range of temperatures: spring, summer, autumn and with an additional layer of clothing also in winter
made from recycled polyester: for environmentally conscious moms
extensive additional equipment: with carrying inserts for babywearing in front of the body or on the back
Functions
water repellant

level 4
windproof

level 6
breathability

level 5
cold protection
level 4
Breathable, wind and waterproof membrane
Water column 10,000 mm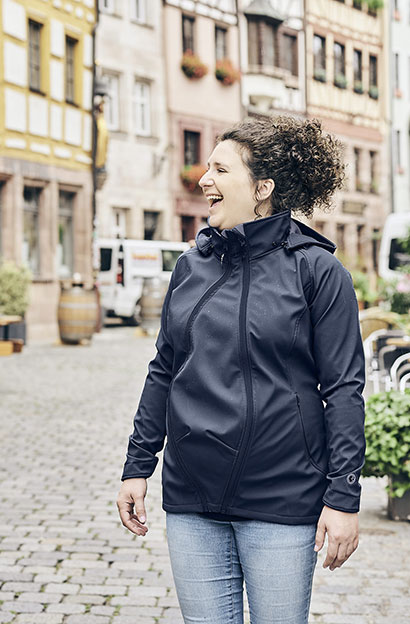 ---
Material
100% recycled Polyester
with waterproof PU-membrane (10.000 mm)
Water repellency FC free (Bionic Finish Eco©)
lined with Fleece inside  (recycled Polyester)
Additional details on material
Sustainability
minimal resource consumption due to recycled material
plastic-free packaging ex work
no chemicals that are difficult to degrade / harmful to health (FC, PTFE)
long-lasting due to multi-use
high resale value thanks to excellent quality
fairly produced (BSCI and GOTS certified Factory)
 
Further information on sustainability
Care Instructions
The mamalila Softshelljacket is easy to care for if you follow these instructions:
30 degrees in the washing machine / delicate wash cycle
no fabric softener (damages the membrane)
iron or tumble dry after washing (maintains the water-repellent property)
After about four to five washes it may be advisable to re-impregnate, please use FC-free agents such as Nikwax .
Here you will find care products recommended by mamalila
---
---
Size Information
mamalila's Tipp: Jacket is tailored, generously cut
Order mama-size only, children (up to 1,5-2 years) and pregnant bellies will fit in our babywearing and maternity inserts! Happy to advise when unsure by size selection!
 
XXS
XS
S
M
L
XL
XXL
Deutschland
Österreich
Nederlands
34
36
38
40
42
44
46
US
4
6
8
10
12
14
16
UK
8
10
12
14
16
18
20
France
Belgique
34
36
38
40
42
44
46
Italia
38
40
42
44
46
48
50
Körpermaße:
Body measurements:
 
 
 
 
 
 
 
Brust / Chest 
77-87cm
81-91cm
89-99cm 
97-107cm 
105-115cm
117-127cm
129-139cm
Taille/Waist 
65-75cm 
69-79cm 
77-87cm 
85-95cm 
93-103cm 
105-115cm
117-127cm
Hüfte / Hips 
81-91cm 
85-95cm 
93-103cm 
101-111cm 
109-119cm 
121-131cm
133-143cm
Ärmellänge der Jacke
sleeve measurement of jacket 
64,5 cm 
65,0 cm 
65,5 cm 
66,0 cm 
66,5 cm 
67,0 cm
67,5 cm
---
---
What others say about this product