Booties
Before you know it that sweet little baby that you carried has become a sweet child, with feet popping out of the jacket or cover that need to be protected. Because now outside of their protected covering feet can quickly get cold or wet, the mamalila collection also includes a range of booties to match in fabric, colour and function the jackets. And which can do so much more than just warm.
Suitable for
spring
autumn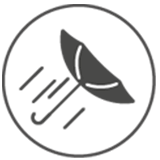 winter
shop now
Functions and Features
Not only do the booties function as a kind of extension to the jacket, keeping feet warm and dry when protruding, but some booties are also designed as a sturdy top-layer and dirt protector. The softshell and winter booties are perfect for the playground when the carried child wants to make a first attempt at walking but does not yet have proper walking shoes or the proper shoes should not get scuffed up. They can also be pulled on over dirty shoes after a trip in the mud so mom and carrier can stay clean on the journey home.
Perfect companion for jacket or cover
Matching fabric and colour to mom or dad's jacket
One size, fits approximately from shoe size 18 to 22
Versatile companion depending on the need and material, from cosy, warm and superlight to waterproof and breathable.
---
Variations
matching the Softshell
Jacket

 
matching the Winter
Jacket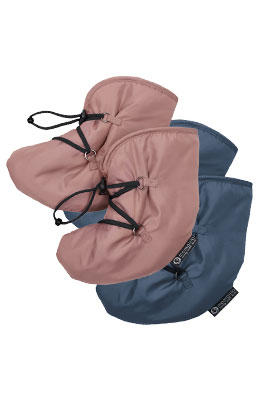 matching the
Short Coat and Quilted Winter Jacket for Babywearing
matching the
Allweather Jacket for Babywearing Winter
 
More information can be found in our webshop.
---
Highlights
Quickly pulled on
The softshell and the winter booties have a zipper at the heel and Velcro on the side, the quilted booties are lace-ups. Therefore all models are easy to get on and take off and can be easily adjusted to the size of the child's leg, making for a perfect fit that does not slip.
Booties as trouser protectors
The booties can supplement or replace the usual leather or woolen shoes of the child adding extra protection against cold and wet. The booties which are made from a functional fabric such as softshell, are cut so that they can be worn over proper shoes up to size 21-22. The thought behind it being, a larger child who alternates between walking and carrying has dirty shoes, simply pull the booties over them and mom can stay clean.
---
---
Ideal for toddlers and muddy princes
"The mamalila booties have already served us well. When my little one took his first steps holding my hand, they were great to pull over socks. Later, we had the muddy feet and shoes to stick in them, thus eliminating mess when wearing."
Nina S.
---
You might also like
This all-rounder in the mom/child jackets is not without good reason the bestseller at mamalila. Breathable, wind proof and water repellent, with a light fleece lining and of course matching booties.
Sporty, functional and wonderfully warm! The water and wind proof winter jacket for two is breathable, surprisingly light and can be used later as a ski jacket. Here too there are matching booties.
The all year round coat made from organic cotton is the absolute eco-product from the mamalila collection. Thanks to its quilted insert it is extremely versatile and the perfect mix of weather proof and office ready.
---
awards