Description
Winter bump and summer baby
Whether you have a winter bump or you are expecting a summer baby, whether you start babywearing in spring or want to protect your pregnant belly against the cold autumn wind: the Short Coat Berlin is always the right choice. Thanks to the removable lining, it adapts to every season and is just as much a cosy winter companion as a light summer coat.|
You are flexibly equipped for any weather with this babywearing coat: water simply rolls off, and when it's windy, raining or snowing, Berlin will protect you with a windproof and waterproof membrane.
This is perfect in the transitional seasons, when the weather is different every day. Or when you're out and about and don't know exactly what the weather will be like. No matter what comes: the mamalila Short Coat is always fitting.
Mommy course, meeting or girls night out? It doesn't matter, anything goes.
We've combined a casual cut that you can wear to the playground as well as to the office with natural materials so that you don't have to choose between practical and stylish, between mom and fashion. And because you feel comfortable in it even when your figure changes with your life, with becoming and being a mom. The advantageous, slightly flared A-cut makes sure of that.
Organic, of course. But weatherproof.
The material of this babywearing coat is as special as its style: environmentally friendly organic cotton and recycled polyester make for a wonderfully soft mix, with a minimal ecological footprint. Organic cotton is grown free of pesticides and requires significanyl less water than conventional cotton, with recycled polyester we use existing raw materials, thus minimising overall resource consumption. 
Due to the mixture of high cotton content and recycled polyester, this coat is super comfortable to wear and you will feel good as soon as you slip it on. At the same time, the material is also sensitive and will develop a used look due to wear and tear, such as with jeans. This is primarily due to the membrane, which provides weather protection, in combination with the organic cotton and the organic colour.
In order to avoid increasing the used effect, we recommend that you wash the coat as little as possible and follow our care instructions when washing.
This means:
The A cut provides space for the growing bump even without insert, if necessary a maternity insert can be ordered separately
mamalila concept: maternity coat, babywearing coat and smart office friendly everyday companion
Babys neck opening is adjustable to protect against draughts
For more freedom of movement:  the removable quilted lining has 25% more padding on the body than on the arms
Suitable For
What you can expect
A coat for all seasons
Urban look combined versatile and weather proof
Innovative, sustainable material mix: organic cotton and recycled polyester plus eco-friendly membrane and coating conserves resources and the environment
Breathable, wind and water repellent for a good climate under the jacket
Removable mom hood when babywearing on the back or for a change of style
Zippered pockets so that Nothing falls out
Baby insert with extra removable lining, so that mom and child can regulate their heat requirements individually
Adjustable neck protection for baby, suitable for all carring heights
Functions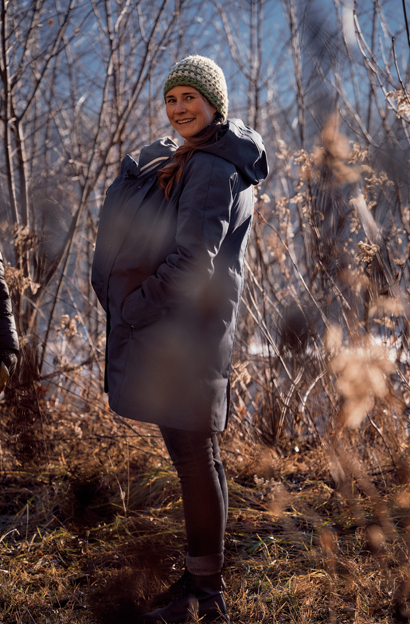 ---
Material
Outer shell:
organic cotton blended with recycled polyester
windproof PU-membrane (7,000mm water column)
Inside lined with 100% organic cotton
FC-free impregnation (Bionic Finish Eco)
Removable quilted inlay:
Recycled Polyester with vegan padding
More information on material
Sustainability
100% organic cotton (Organic Content Standard, OCS100)
Reinfored and lined with recycled polyester
FC-free impregnation for water repellency
PFOS/PFOA-free membrane
Made under fair conditions
Further information on sustainability
Care Instructions
Gentle machine wash maximum 30°C (delicate wash cycle, hand wash or wool wash cycle)
Close all zips and buttons, zip in inserts and always wash with them
Carefully pre-treat stains with a soft cloth (lining can be washed together with coat)
Turn inside out and use a special detergent for membrane garments
Wash separately
Select the lowest spin speed
Air dry - no tumble dryer
Iron to point 1 - avoid seams and zips
Re-impregnate if necessary - we recommend Nikwax Cotton Proof
These and other care products can be found in our Webshop at https://www.mamalila.de/Care-products
---
---
Size Information
mamalilas Tipp: The short coat has an A-Form
Select mom's size when ordering, the baby insert will make the space needed for child (up to an age of 1.5-2 years). The flared cut means that many pregnant women can fit their baby bump under the coat without an additional insert; however, a pregnancy insert can be ordered later if required.
Happy to advise when unsure by size selection!
 
XS
S
M
L
XL
Deutschland
Österreich
Nederlands
36
38
40
42
44
US
6
8
10
12
14
UK
10
12
14
16
18
France
Belgique
36
38
40
42
44
Italia
40
42
44
46
48
measurements of the coat:
 
 
 
 
 
sleeve measurment of the coat 
78,0 cm 
79,5 cm 
81,0 cm 
82,5 cm 
84,0 cm
full back length of the coat 
89,5 cm 
90,5 cm 
91,5 cm 
92,5 cm 
92,5 cm
If you are between two sizes with small shoulders you should order the smaller size. If you have broader shoulders then order the larger size. The A-Form makes the waist and hip width irrelevant.
---
---
What others say about this product